SIAMS 2024 - Possibilities and Rates
Possibilities and Rates Rent of a stand in CHF per m2 (VAT not included)
Surface in the halls (only floor space):
1 open side CHF 245.-
2 open sides CHF 315.-
3 open sides CHF 350.-
Corner stand CHF 305.-

Built stand in the halls*:
1 open side CHF 305.-
2 open sides CHF 375.-
3 open sides CHF 410.-
Corner stand CHF 365.-

Surface in the tent (only floor space)
1 open side CHF 230.-
2 open sides CHF 300.-
3 open sides CHF 335.-
Corner stand CHF 290.-

Built stand in the tent*:
1 open side CHF 295.-
2 open sides CHF 365.-
3 open sides CHF 400.-
Corner stand CHF 355.-
Post discount on the stand: 1m2. Discount for post with fire hose on the stand: 2m2.
Stand builder:
MCC Messe Consulting AG
Walti Christen
Eigentalstrasse 17
8425 Oberembrach
T. ++41 (0)44 837 20 20
F. ++41 (0)44 837 20 21
mcc-ag.com,info
www.mcc-ag.com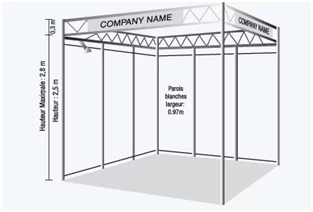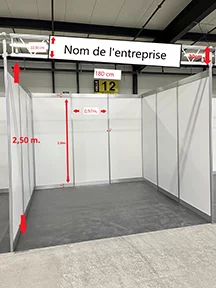 * Example of built stand (with structure, anthracite carpet, white walls, spotlights, panel with company name)
Whatever the chosen surface, your registration automatically includes ordering the "Exhibitor Package" for the main exhibitor
0-17m2 : CHF 720.–
18-35m2 : CHF 920.–
36-63m2 : CHF 1'120.–
64-100m2 : CHF 1'320.–
More than 100m2 : CHF 1'520.–

Included in the exhibitor's pack for the main exhibitor
Registration for the fair,
website login and catalogue entry,
online presence and the possibility to publish as much news as you want,
1 T13 socket
1 parking space (additional parking spaces sold for CHF 210.00 per space - maximum 2 additional spaces per company),
WIFI,
the aperitif and the musical evening,
daily stand cleaning,
the disposal of all waste,
automatic and free registration to the SIAMS Club.
Other types of participation
Space for a showcase (without stand): CHF 990.– (all inclusive, excluding VAT).
Showcase on the stand of the Décolletage Platform: CHF 1,800.– (all inclusive, excluding VAT).
Rate of co-exhibitor: CHF 980.– (all inclusive, excluding VAT). Each co-exhibitor enjoys the same benefits as the main exhibitor.
Only panel on the stand: CHF 150.-
Only website login and catalogue entry: CHF 300.-
Only listing in the catalogue and on the website with the possibility to publish news: CHF 800.
From 6 co-exhibitors on a group stand: only CHF 250.- registration fee for the catalogue entry by co-exhibitor.

>>> The prices for 2024 have been slightly increased ;o(.
Possible changes depending on our suppliers are still possible.
But we do our best to minimize the increases and offer you the maximal value!