SIAMS - At the heart of microtechnology: practical information
Do you work in the field of microtechnology? In the watch industry? The automotive industry? The aeronautics industry? Mechatronics? The medical industry? The electronics industry? The supply of precision parts?
Are you looking for products, solutions and partners for whom Swiss quality and innovation are crucial?
Do you need to constantly improve your products and services or your productivity?
And would you like to get information in a friendly and congenial ambiance?
If you answered yes to one or more of the above questions, a visit to SIAMS 2024 can help you achieve your goals! Numerous exhibitors have already told us that they want to use the fair to present their innovations, and all of them are actively working to make your visit a success.

Location
Forum de l'Arc
Rue industrielle 98
2740 Moutier
siams.ch,info
www.siams.ch
Duration of the event
April 16 to April 19, 2024
Opening hours
09:00–17:30 (Friday 17:00)
Parking
Follow the signage
Organization
Faji SA I T. 032 492 70 10
christophe.bichsel@faji.ch
Day pass
CHF 15 | EUR 15
Free with prior online registration.

Restaurants On site:
Les Deux Tours: restaurant and VIP restaurant on reservation (+41 32 493 1741 )
Take Away, Food Truck, Buddah Bowls and Restaurant l'Indus.
All about the possibilities in Moutier
Eating out, going out, relaxing, Moutier and surroundings (French)
Park and Ride
SIAMS bus from the parking lot to the fair
Shuttle
from the SBB station to the fair
Lodging, hotels
Jura bernois tourisme
CH – 2740 Moutier
www.jurabernois.ch
T. 032 494 53 43
jurabernois.ch,info
Banks
in Moutier

Still hesitating?
Discover the 8.6 reasons to visit SIAMS.
Don't miss our visit planning tool.
Organisation
FAJI SA
T. 032 492 70 10
faji.ch,christophe.bichsel
Next issue April 16-19, 2024
Moutier, Swizerland
Thanks to our media partners
French-speaking Switzerland
German-speaking Switzerland
International and other countries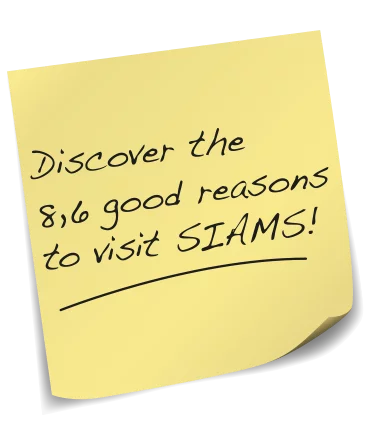 Let's have a look on the SIAMS 2022 in 60 seconds!